ONLINE CHALLENGE WINNER
for MAY
Sharron Ayerst
"A very summery feel. I love the grass roots viewpoint."
"So many to enjoy but I found this one pleased me the most."
ONLINE CHALLENGE WINNER
for March/April
David Daggar
Animals always bring out 'Aw' factor and this subject had that!
'Loved the beaver. I usually go for colours but I found this to be the one I liked best'
ONLINE CHALLENGE WINNER
for January/February
Jenny George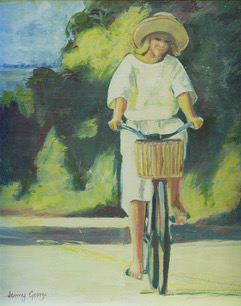 "A bit greenish, but has a lovely romantic English Summer feeling"
"A lovely captivating image without unwanted detail."
One year ends and another begins.
The beauty of time is that there will always be more to come. This year will be as busy for our members with no less than 7 different events at Bridgwater Arts Centre, some exclusive to members and others in association with the Centre.
Venues for our 'en plein air' events range from a climb to the top of the tower at St Mary Bridgwater to the Spring blooms at Hestercombe and the coast at Watchet. Kicking off 2020 is an essential and informative Forum to help find a solution to the perennial question 'how to sell your work'. There is our popular OnLine Challenge throughout the year to encourage members to explore new subjects and techniques.
ONLINE CHALLENGE WINNER
for November/December
Pat Preater
Market by Pat Preater reminds me of Kandinsky Paintings from the period 1910-1917 before the return to Russia and the Bauhaus period.
ONLINE CHALLENGE WINNER
for September/October
Maureen Carveley
"The Rhubarb Patch" is a delightful and gentle illustration which could easily grace the pages of Peter Rabbit. The subtle shades of green, with the complementary colours of the terracotta pots, really appeal to me!
I like the drawing in the Rhubarb Patch
Interesting, well structured composition.
Maureen has successfully managed to create a picture using, probably the most difficult colour to master, green.
Other comments on members' works:
Diane has created two pictures in one, one pencil and a watercolour, very nicely too.
Rob again has produced a nice picture but this time in monochrome, not at all an easy thing to do.
I like (Lorraine's) bold abstract design
Blue Spring by Jenny George is something to look forward to next year.
Love the colour and concept. Also my name is Violet so a good reason x x x x
Somerset Art Weeks Sept 23 – Oct 6
Another successful event for
our members with 303 visitors to the exhibition and over £730 in sales
ONLINE CHALLENGE WINNER FOR MARCH/APRIL
PAUL DAVEY, SITE
Paul's woodcut print swept the board and was heavily praised:
"A powerful depiction of street art in a relevant setting – and must have been difficult to do in woodcut."
"Utterly brilliant!"
"The best original and creative work I've ever seen with the Chandos. Brilliant! I want it. Is it for sale?"
"Intriguing contrast of conventional landscape and Picasso inspired abstract forms."
"There was a bit 'politics' in some art which, given the subject, is acceptable. I think Paul combined art and graffiti very cleverly. Well done to all the entrants who bravely met this challenge"
"An interesting mix of work."
Other comments on members' works:
"Although I didn't take part I still enjoyed the creative thought to produce the art works I chose Kens work I enjoyed the humour"
"I like it ! (Diane Thomas entry) That is my reason but I really find it hard to choose as they are all so good."
"A very good effort Steve (Dando), very colourful."
ONLINE CHALLENGE WINNER FOR JAN/FEB 2019 IS
JENNY GEORGE – ENMORE LANE
Jenny George
'Enmore Lane'
Acrylic
18 x 14 inches
The diverse interpretation and the quality of the art is amazing. There are few bold artworks vote goes to Jenny for colour, composition and interpretation. What a good selection of artwork this time. Jenny George – Enmore Lane is the outright winner. It is described as a rustic delight. Lovely depth drawing the eye in and colour drama, composition are great.
Michael Brobson has captured the feel of Wells with an element of mystery. Nice soft colours and edges. Steve Dando's painting was liked ,the telephone box evoking memories of early communications – how things have changed.
Pat Warren sense of humour shows in this painting, and but my vote goes to Richard Field's "Wells Cathedral" which probably took him 5minutes. It would be lovely to be able to paint like him. Rachel Baker's Snowy Morning is the prefect snow scene. The handling of the acrylic paint especially in the foreground was effectuve. The picture has a real sense of place with good use of perspective and strong contrast. Another great selection – lots of bright' primitive' pictures maybe because the subject is emotive and theartists took on a childlike approach. I like Pat Preaters's for perhaps being more true to the topic than the generalised landscapes. Ken Church's picture is delightful and atmospheric (wrong word – doesthe moon have an atmosphere?) colour drama, composition are great. The diverse interpretation and the quality of the art is amazing. There are few bold artworks that I like a lot andmy vote goes to Jenny for colour, composition and interpretation.
A great start to our year
Members got together for an enjoyable evening at The Admiral's Landing, The Docks, Bridgwater
Bridgwater Arts Centre is open
The news of the closure of the Bridgwater Arts Centre for important renovation and repair work came suddenly at the end of last year. As a result our programme for 2019 was hastily rescheduled.
Thankfully a band of determined individuals, our own Jonet Middleton amongst them, have reopened the Art Centre except for the theatre which is closed for safety reasons.
Jonet sweeps the board at the
Come Outside Exhibition
At our last exhibition for 2018 "Come Outside' at Bridgwater Arts Centre Jonet Middleton picked up prizes for both Best in Exhibition and People Choice Award.
Jonet's creativity and all round artistic talent shone through in two different media, first with wet felting for her picture Yachts at Durleigh Reservoir and with pen and watercolour for The Market Square, Wells.
It's going to be a very happy Christmas at the Middleton household this year as she walks away with £100 in prizes!
Portrait of John Allen unveiled
Bridgwater Town Mayor Cllr Graham Granter and Lady Mayoress Kay Granter unveil the portrait of John Allan with artist member Lesley Nicholls at the Preview evening of the 2018 Spring Exhibition.
Picture by member William Allen Photography
2017 Review
At the AGM held at Bridgwater Arts Centre on Saturday 28 April 2018, Chairman Ken Church delivered the following annual review:
"Welcome to the 56th annual general Meeting of the Society.
I am happy to report that 2017 was a very successful year for the Society.
Your committee has worked tirelessly to bring a programme of events and exhibiting opportunities.
Membership was very high ending the year with 65 members. It is a testament to the Society's work that many of its members renew their membership over many years.
Our exhibitions grossed over £3600 in sales.
We started the year with a trip to Hauser and Worth contemporary art gallery in Bruton. The art was 'interesting' and tea was delicious.
A rather cold, but enjoyable social evening in February followed with soup, cake and a Quiz provided by members. Jeremy Harvey walked off with the prize, which wasn't a surprise to some of us.
Our Colour Mixing workshop with Camilla Clark was over subscribed.
What was to be our last Jean Rees lecture was given by Paul Branson on 'Goldsmiths before Damien Hurst' Attendance at the lectures has been steadily falling and It was felt that remaining funds be reallocated to support members more. Your committee is working on ideas.
It was a year of adventure when it came to exhibition venues. First was our weekend exhibition in a Bird Hide on Steart Marshes organised by Jackie Curtis.
Then came the Summer Exhibition held on a farm, Huntstile Organic Farm. It ran for 8 weeks, a record for us.
We had a short pop-up exhibition in the new McCarthy Stone development in Bridgwater.
The perennial 'Come Outside' Exhibition once again displayed the talents of the members, despite the weather. The 'Presidents Award' went to Margaret Micklewright and the 'Peoples Choice' to Rob Shuttleworth.
Exhibitions through the year grossed over £3600 which reflects well on the quality of the members' work.
Christmas Dinner at Ashcott Inn was another joyful occasion especially as we had an entertaining if un-appointed MC in member Richard.
We spent more on advertising and marketing which has helped increase the profile of the Society. We have had good press coverage and got a very good article about our exhibitions in the SAAs Painting magazine.
A shadow passed over the year with the death of our founder member and President John Allen. He had been a supporter, Chairman and benefactor to us from 1961 Just before his passing he had contributed another £200 towards the Presidents Award for our Come Outside Painting days.
This my last report as Chairman as I am passing the reins onto someone else and I leave you with membership strong, finances healthy and the future looking bright".
People's Choice Award 2017
Congratulations to Rob Shuttleworth on winning the Come Outside People's Award.
His oil painting 'Low tide, Burnham on Sea' received the most votes with a close second Anne Farmer's watercolour 'Rained Off'
2016 Review
Chairman's statement at AGM
Looking back on our activities
We started off last year with a new idea, the Book Exchange. While the idea was sound and it did bring in a little money the choice of nights was not so good. It was acoustic night in the art centre and the music was not so much acoustic as accosting.
Whilst we sold over £1000 of paintings in 2016 sales were disappointing overall with less than 20 pieces sold. This year should be better but we intend to up the marketing effort for sales in the coming year.
We are still not engaging fully with our membership as the presentation on The Art of Mosaicist and the Jean Rees Memorial Lecture were both poorly attended.
Ahead of the Come Outside days our member Robert Parker gave a workshop on painting en plein air. Those that attended found his guidance most useful.
Carole welcomed members to her garden in Williton to paint and those that missed it can join her again later in May.
Our Summer Exhibition in Taunton Library was disappointing compared to the 2015 but we think that was because it was immediately after the Brexit vote and art was low on the list of peoples priorities.
In June Jonet and I manned a stand at the Taunton Live event in Castle Square. We both produced some art and Jonet won a prize at the follow-up exhibition in the Tacci Morris Centre
The painting days for our Come Outside series were in Taunton, Steart Marshes and Watchet and were well attended making the exhibition that followed a success. Rob Shuttleworth won the President's Award and Robert Parker the People's Choice Award.
Finally our Christmas Lunch was again held in The Walnut Tree and all of our guests found it enjoyable, that is up to the point were I cracked a joke!
Overall I think the committee did a good job encouraging members in their art and putting it out to the public.
Throughout the year we had been working hard to recruit more members. At the end of 2015 we had 41 members. By the end of 2016 we had grown to 59 and today we have 61 members. The Society ended 2016 in a very healthy position with more members, and as a result for this year there are more activities.
Today Pat Preater is stepping down as our Minuting Secretary after many years in that role. She still wishes to be supporting our work and I hope that you will vote for her to remain on the committee.
I would like to say thanks to Cathrine Sakuri for her invaluable help with Jonet for the catering at our events but they could do with a little more help.
Thank you to Jackie Curtis who spreads the word about our events and has also examined our accounts to ensure they are a true representation.
Thanks also to those members who have contributed with hanging and stewarding exhibitions but there are many other jobs where we could use some help and with new ideas and suggestions.
Your committee is a small group of committed individuals who do their best but they could do with a little help from time to time. With each member doing a little bit our society will be stronger, friendlier and give us all a chance to pursue our art.
It doesn't necessarily mean joining the committee but offering your expertise and ideas to help your society meet the needs of the members. You will not be left to work alone, the committee and other members will be there to help and support you.
So if you can help with
marketing, membership, social events, website, workshops, etc
come and talk to us.
Finally, on a personal note, these past two years as your Chairman I have only been able to scramble together a few pictures, and aways under pressure, and I would love to be able to do more artwork but I need your help.
If I am nominated to serve another year I will make it my last as Chairman, I am sure there are members who could lead the society onto greater things. I will, of course, hope to continue to support the committee in any way that I can.
NEWS FOR 2017
2017 JEAN REES MEMORIAL LECTURE
Visitors to the Society's Jean Rees Memorial Lecture were treated to Paul's insights of art teaching and practice during and after the 1940s, the famous Goldsmith alumni he knew and befriended including John Hutton, famous for his glass engravings on the Great West Screen of Coventry Cathedral, the sculptor Robert Jones who's memorial to Winston Churchill stands in Parliament Square and the great British artist Graham Sutherland.
Paul treated us to some personnel antidotes about his life, work and some regretful memories like being dumped by Mary Quant! A regular on Somerset radio for many years in the 80s and the chief prosecution witness at the trial of the master forger Tom Keating, he will be showing many personal slides to illustrate his talk.
First Event of 2017 was great.
5 members went to Hauser & Wirth Gallery. It was a beautiful day and the exhibitions were 'challenging'.
Elizabeth Frinks bronzes and drawings stimulated a lot of varying views and comments but Djordje Ozbolt's art less so!
The visit was rounded off with a cream tea and on the journey home we were treated to a beautiful sunset and a murmuration that passed right over us.
A WONDERFUL WAY TO END THE YEAR
25 members and friends met at the Walnut Tree in North Petherton for a Christmas lunch. Funny hats, bad jokes, good food and company was a great way to end the year and begin the new.
NEWS FOR 2016
Congratulations to Rob Shuttleworth on winning the President's Award in our COME OUTSIDE Exhibition

Parrett Estuary from Steart Marshes
and congratulations to Robert Parker on winning the
People's Choice Award
Jonet and Ken promote the Chandos Society and the
COME OUTSIDE Exhibition on the Martin Evans Show BBC Radio Somerset September 2016
The Chandos Society of Artists 2016 AGM
The AGM was held on 30 April in the garden of Bridgwater Arts Centre. A pleasant change from a stuffy committee room.
Election of Committe members and Officers took place and these can be seen on our Contact page.
Ken Church was re-elected as Chairman and he made a report on the health of the Society, past present and future. A copy of his report can be downloaded here.
Philip Brimson, our Treasurer for over 10 years, has stepped down. We owe him our gratitude for keeping a steady hand on the finances. His report is available to members on request.
Spring Exhibition at Bridgwater Arts Centre 1-24 March
There are 78 entires plus sculptures from Richard Field on display. It is an excellent exhibition that reflects well on us all.
Friday April 8th
The art of the Mosaicist Bridgwater Arts Centre 2pm Friday 8th April. Ken Church will be giving an illustrated talk on this intriguing art form, its history, techniques and modern installations. You can try cutting the tesserae with the same tools and techniques used over 2000 years ago.
Saturday April 30th
Jean Rees Memorial Lecture 2.30pm Bridgwater Arts Centre Theatre. Grace Davies, Director of Visual Arts South West "Engaging Your Public" Non Members £3
BIG BASH
A Street Fair in Castle Street organised by Bridgwater Arts Centre, Sat 2 July. The Society will have a stall there promoting membership and selling some members' work. If you are interested in helping or selling your work contact Ken Church
Saturday May 22
En Plein Air Demonstration, Bridgwater Art Centre Local artist and teacher Bob Parker will take us through how to prepare and paint outdoors, including a practical demo outside. Just the thing before we set out on our "Come Outside" painting days.
JUNE/JULY/AUGUST
Come Outside Painting Days