SOMERSET ART WEEKS NEWS
Members of Chandos Society of Artists had a successful exhibition at Bridgwater Arts Centre (24 September — 9 October).
Several paintings were sold along with cards and prints. Over 100 visitors came to see the members' work and left many praising remarks in the visitors book.
Our souvenir brochure went like hot cakes!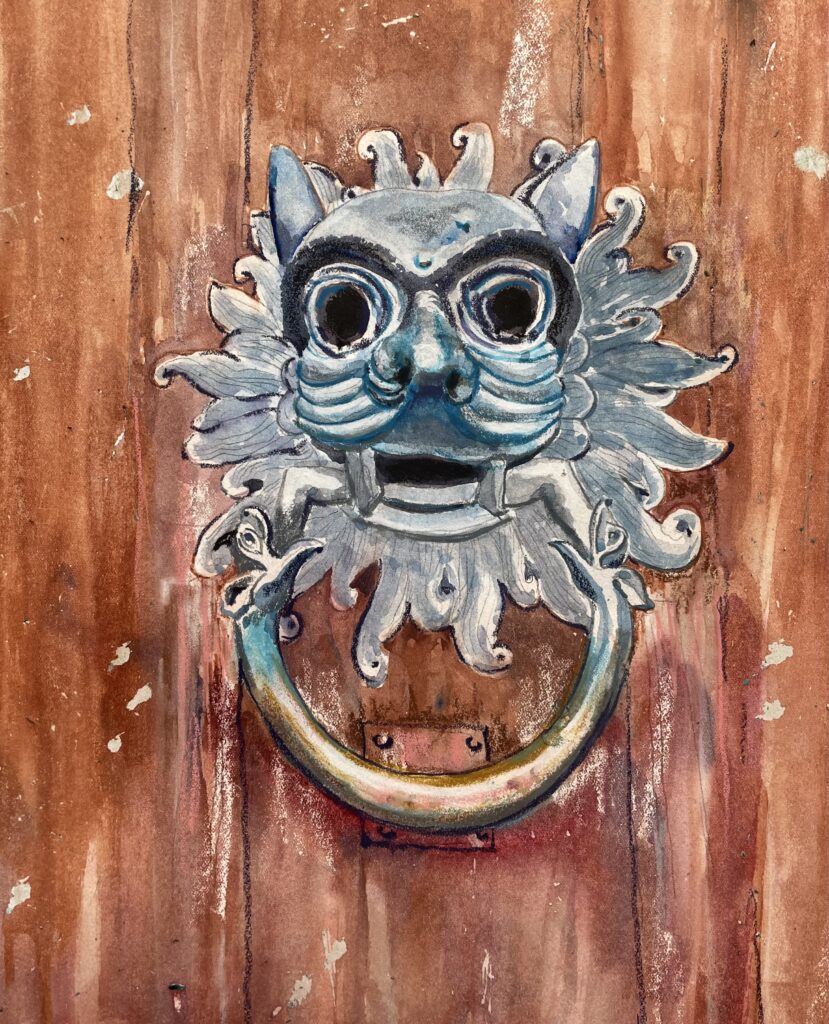 No easy way out
Anne Farmer, a long time member of the Society, went to visit family in Durham and came back with an idea for the exhibition. Wandering round the Cathedral she saw, on the North Door the 'Sanctuary Knocker'.
"In the early Middle Ages if you were fleeing from the law and you could grasp the knocker you would be given sanctuary inside," she said. " It wasn't all good though (apart from having either to face trial or be banished after 37 days) the sculpture itself serves as a terrible warning to sinners. Close study reveals that not only is the miscreant trapped in the lion's maw – a representation of 'the Hellmouth' – but he is being devoured feet first by snakes," details she didn't notice until she started to draw it. "I may call this No easy way out" she said.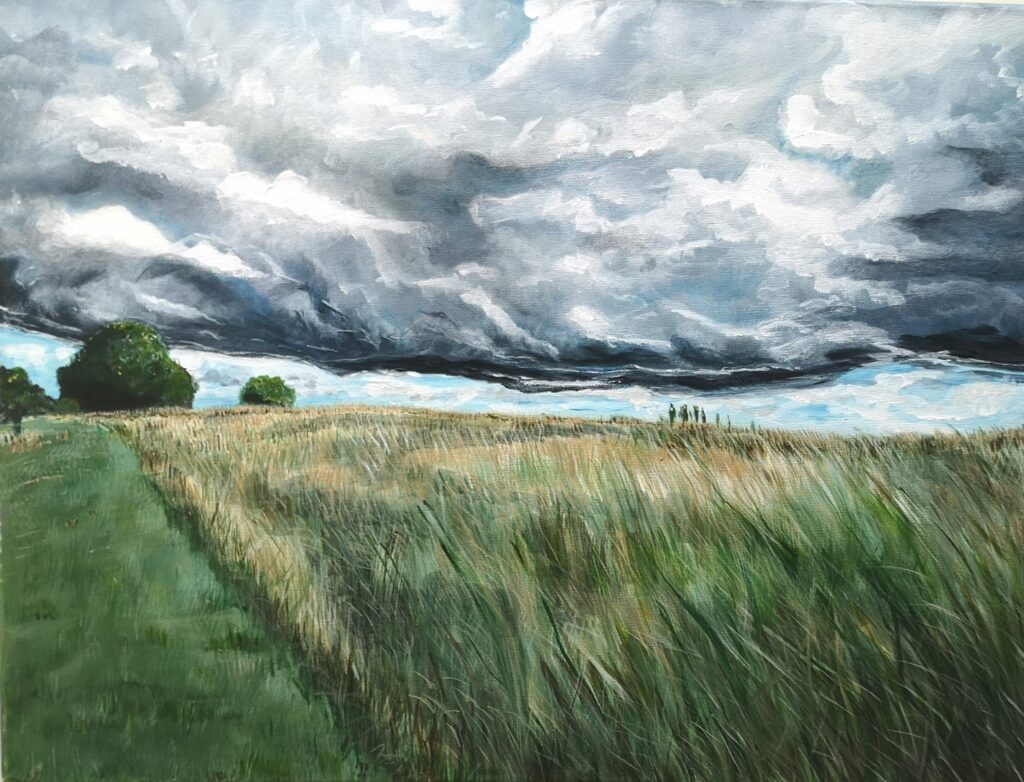 Louise Prior and her Jack Russell often go on adventures to find subjects for her next painting.
She uses acrylic but also oils and pastels in capturing Somerset scenes.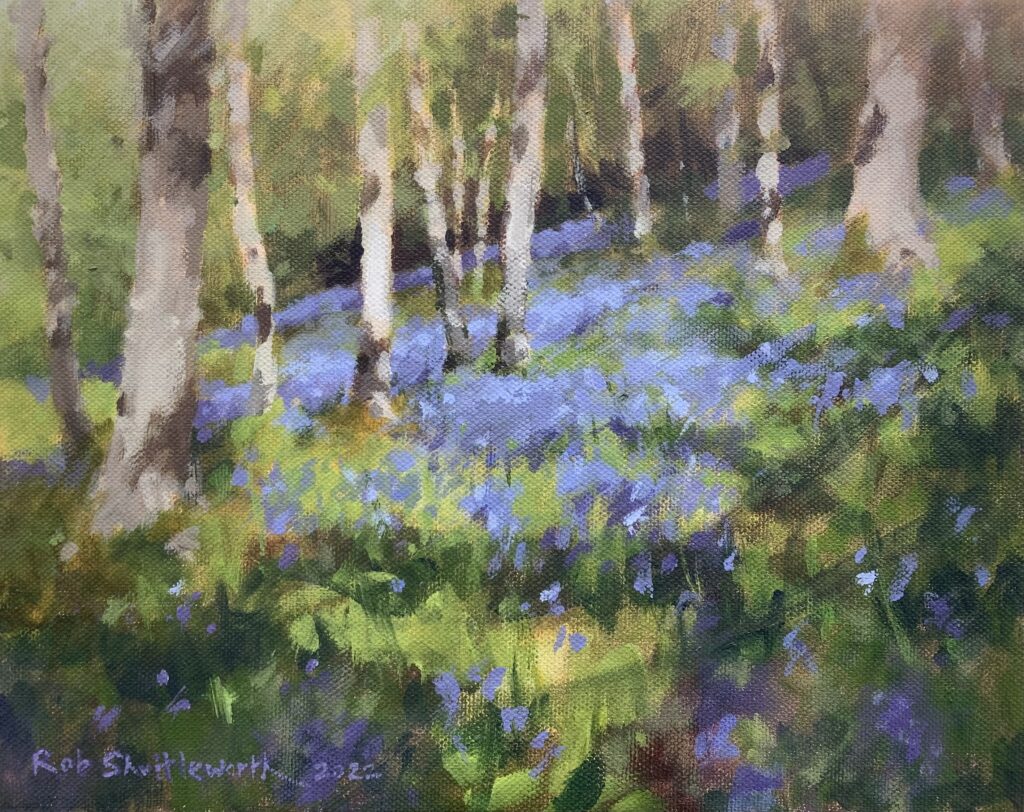 Rob Shuttleworth's work is mainly figurative, underpinned by accomplished drawing skills and approached in a painterly / impressionistic style.
Rob's landscape subjects range from sea level (beaches & harbours, Venice, Somerset Levels) to the lakes and mountains of Wales, Scotland, Lake District and the Alps. He can find sanctuary in all these places.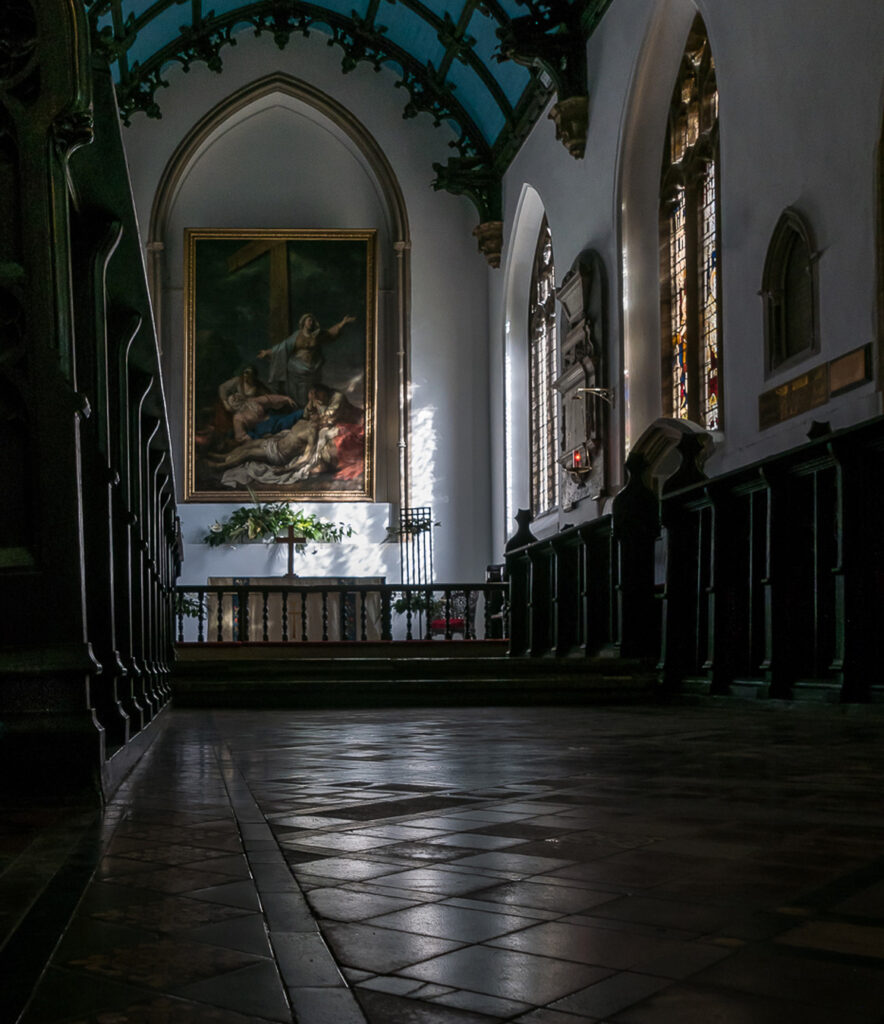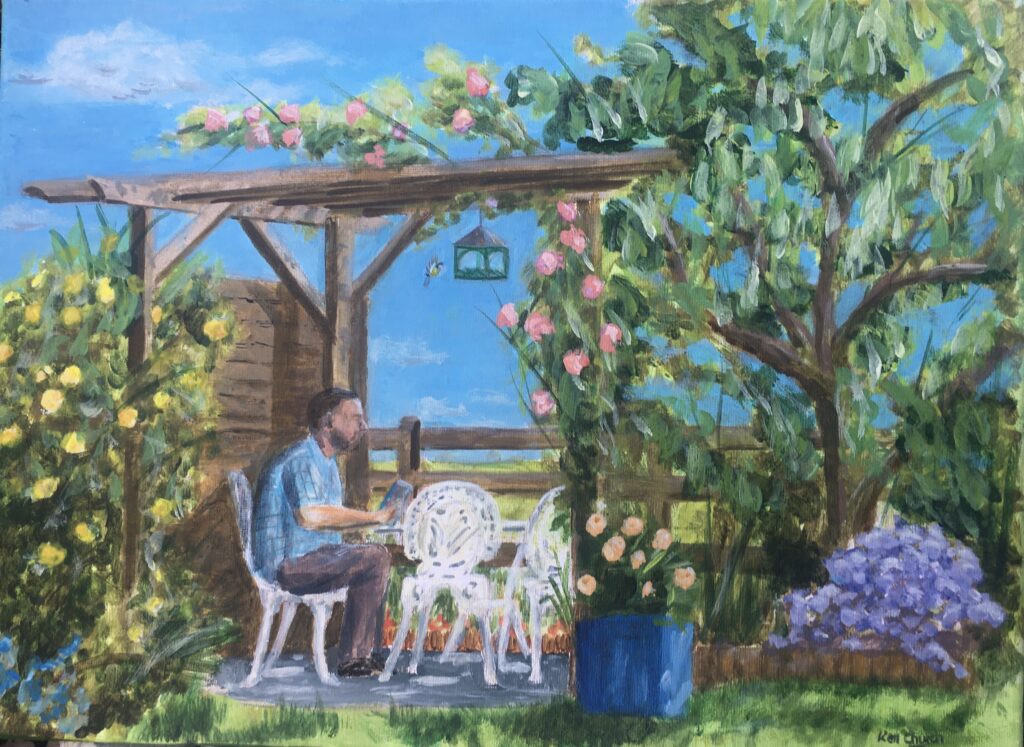 Those long months of isolation and not being allowed to mix with friends and loved ones or go about the normal regular routine also offered a unique experience for many—'me time'.
Ken Church captures 'me time' in his works for the Sanctuary exhibition.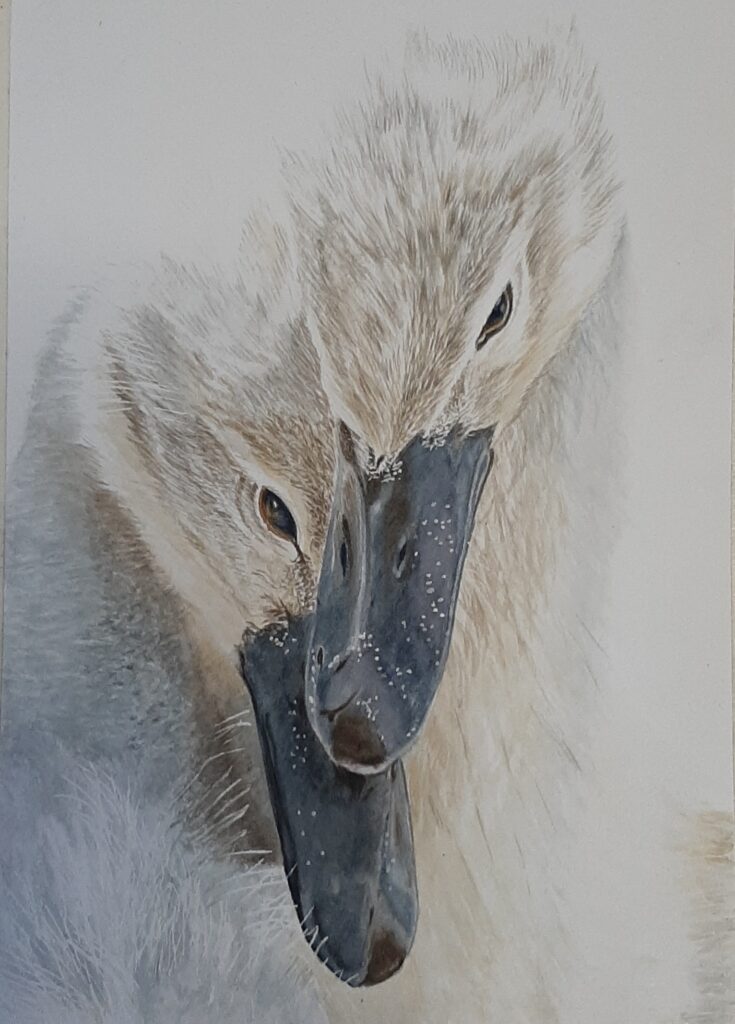 Steve Gathercole took up art as a hobby when he retired starting with airbrush work. Since, his interest has covered all media: Oil's, Pastels; Coloured pencil; Graphite and more recently Watercolour.
Everything about this image makes me think of 'Sanctuary' , the calm and safe environment of the bird sanctuary, the affection and feeling of happiness.
Jackie Curtis, a committee member of the Society is staging a solo exhibition for SAW in her studio at 2 Greenfield Lane, Bawdrip TA7 8PX.
Her printmaking is inspired by The Levels and the countryside around her; night skies and the coast.
"I am responding to this year's theme 'Sanctuary' through 'safety in numbers' with murmurations, flocks, collections and roosts including a video compilation of my experiences watching the roosting starlings on Avalon Marshes."
All of Pat Preater's works touch upon the theme of Sanctuary. Each painting can tell a story describing what it is like to find comfort on her own. Sketches form the basis of the works completed in a variety of media.
Painting has been a time of solace through difficult times.

Pat Preater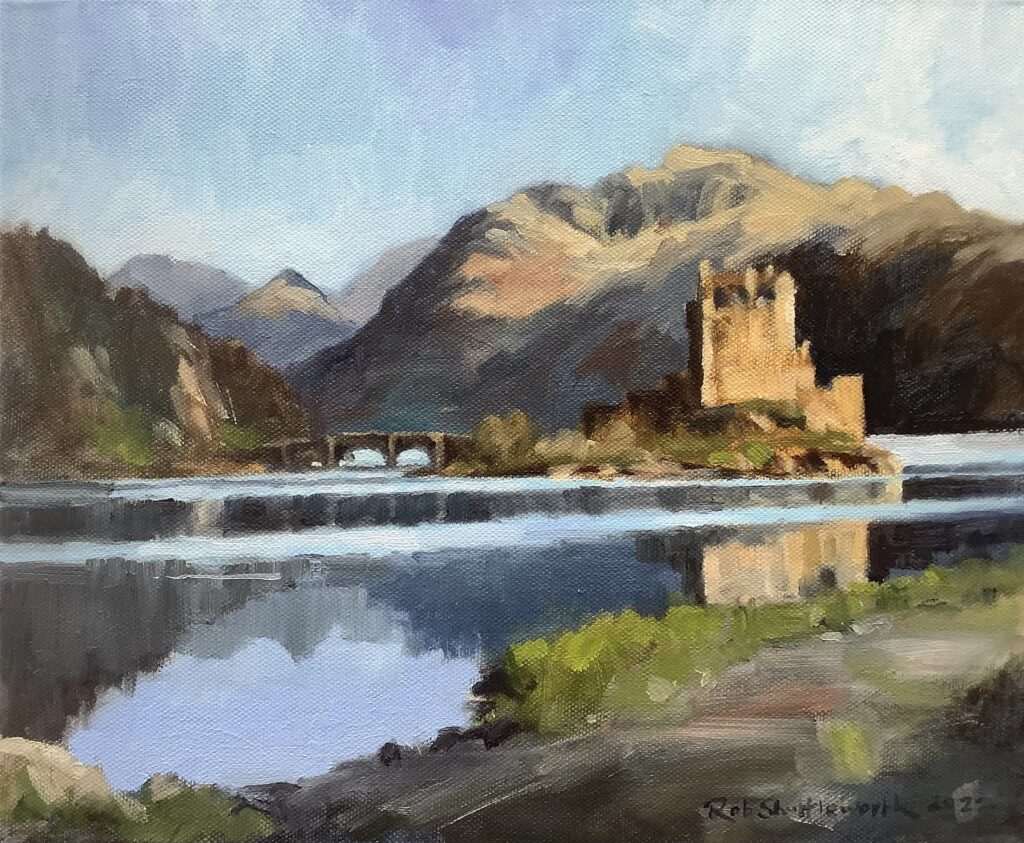 Eilean Donan Castle, in Scotland's Western Highlands, sits in a very dramatic landscape. Captured here by Rob Shuttleworth it once provided a sanctuary for Robert the Bruce.
I stayed near here about 30 years ago. I have returned only once, but I hope to find sanctuary there again someday.

Rob Shuttleworth